I have no idea where I found this recipe or why it took so long for me to try it but OMG, this is like banana bread and cake rolled up into one thigh thundering mass of yumminess. Miss Miranda and I adapted the recipe we had and baked this recipe recently and I posted a picture on the Keswick Blog's Facebook page with the hashtags #curvygirl #lovescake. Never were these hashtags truer than after tasting this tasty little toodle.
The Ultimate Non-crummy Banana Crumb Cake to end all Banana cakes
Preheat oven to 350F. Lightly grease a 9×13-inch baking pan.
Cake Ingredients
3 cups all-purpose flour
1 tsp baking soda
1 tsp baking powder
1 tsp salt
1 1/2 cups sugar
2 large eggs
1 1/3 cups mashed banana (approx 3-4 large bananas)
1/2 cup vegetable/canola oil
1 tbsp vanilla extract
1 cup buttermilk (DIY: 1 cup of milk minus 2 tbsp plus 2 tbsp of vinegar or lemon juice, let sit 5 minutes then use as directed)
Crumb Topping Ingredients
1 cup all-purpose flour
2/3 cup sugar
1/3 tsp salt
1/3 cup butter, room temperature
2 tbsp mashed banana
1/2 tsp vanilla extract
For the cake: Whisk together flour, baking soda, baking powder and salt in a medium mixing bowl.
In a large bowl, whisk together sugar and eggs until well-incorporated. Stir in mashed banana, vegetable oil and vanilla extract. Stir in one-third of the flour mixture, followed by half of the buttermilk. Stir in another third of the flour mixture, followed by the remaining buttermilk and the rest of the flour mixture. Mix just until there are no streaks of dry ingredients remaining. (I highly recommend taking your time and doing the additions in stages, as stated above – I usually just throw it all together, but slowing down actually did give me a better result

)
Pour batter into the prepared pan.
For the crumb topping: In a medium bowl, stir together flour, sugar and salt. Add in softened butter, mashed banana and vanilla and blend ingredients in (with a pastry cutter or a couple of forks) until mixture is moist and sandy. It should stick together in clumps when you squeeze it between your fingers. Sprinkle crumb topping evenly over the cake (there will be a lot of it and it will cover the entire surface).
Bake in the preheated oven for 45-50 minutes, or until a toothpick inserted into the center of the pan comes out clean and the cake springs back when lightly pressed.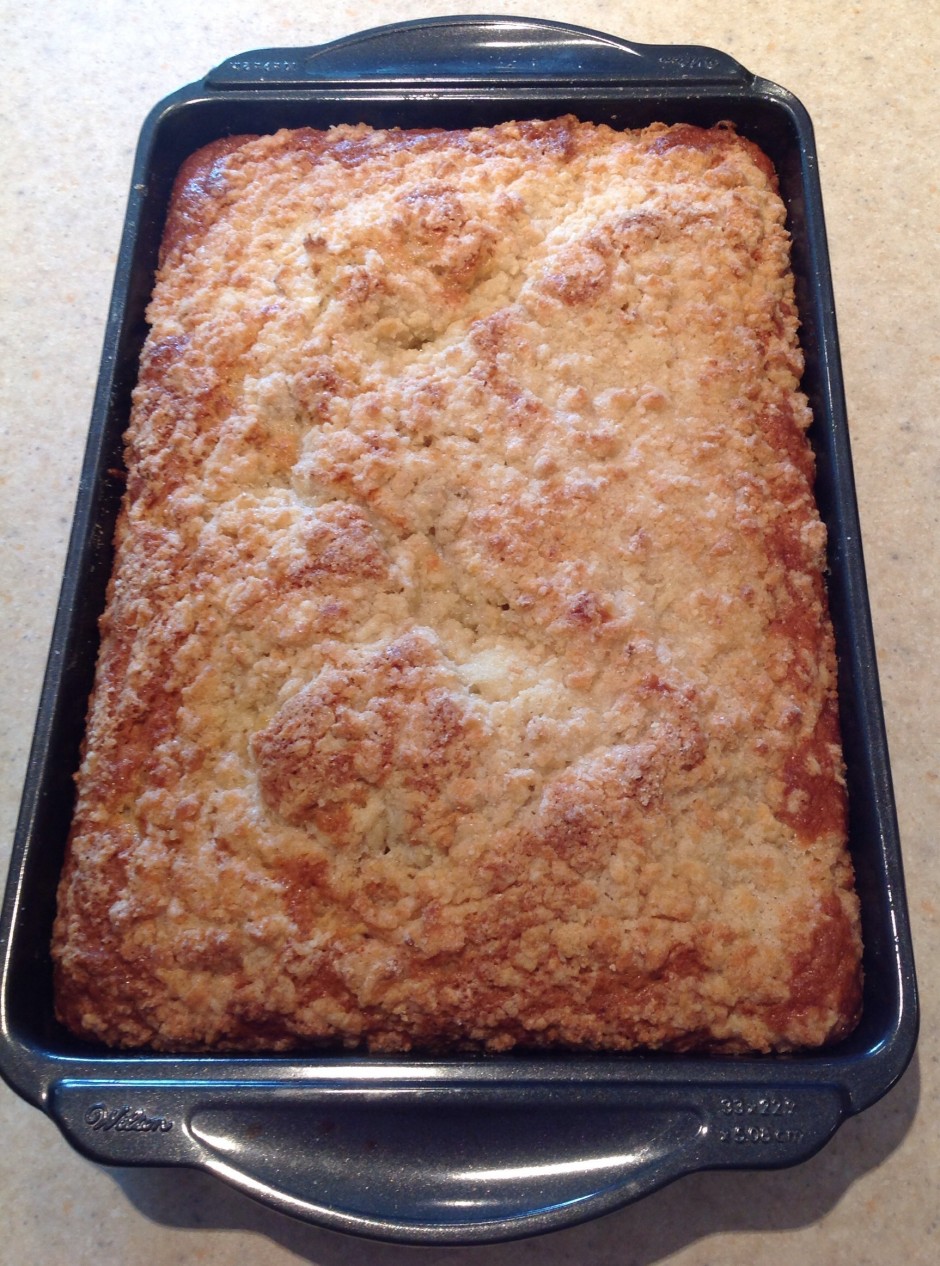 Allow cake to cool completely on a wire rack before slicing into delicious, scrumptious squares of delight. Share this or keep it all for yourself. If the people in your life don't understand, are they really the right people to keep around? If you're so inclined, this cake will keep very well in an airtight sealed container for a few days. But beware of thieves. They can be crafty fuckers when it comes to cake.